News | This page contains general news affecting our business and the industry.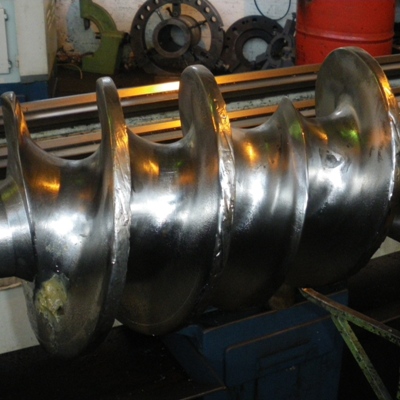 10 inch Rubber Extruder
MMTS was recently contacted by a large rubber manufacturer running a hot feed rubber extruder made by Bridge in the 1960's.
The client had measured the wear on the barrel and screw and believed that refurbishment was required.
Once the barrel and screw had been transported to MMTS, we were able to confirm that the barrel and screw were severely worn and that either replacement or refurbishment was necessary.
Due to production constraints, the client needed the extruder running again when the factory opened in January 2010. This meant that refurbishment was the only option for getting the extruder back into good running condition again.
MMTS set about stripping the extruder drive shaft, and it was found that the Rollway AT-758 thrust bearing was heavily damaged and had to be replaced before the extruder could run again.
The thrust bearing was of a very old design and none were available in South Africa, Europe or Asia ex stock. After a lengthy search, MMTS were able to find a bearing in stock in Minneapolis in the USA on 30 December. The bearing was flown to South Africa via London, which was snowed in at the time, and this caused severe delays, but it finally arrived in South Africa on 11 January 2010.
While the bearing was on its way, the MMTS were hard at work boring the barrel and rebuilding the screw, which went fairly routinely. Once the bearing arrived on the afternoon of 11 January, MMTS only needed 3 hours to reassemble the drive shaft, bearings and screw and deliver to the client, who had a team ready to install.
The client installed the barrel and screw without a hitch and started the extruder on 12 January with minimal impact on production volumes.